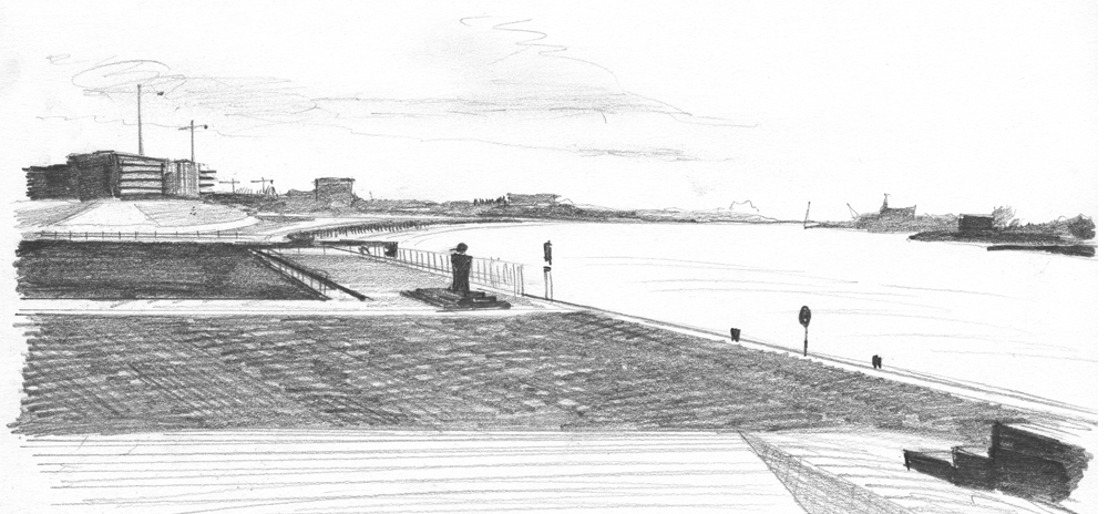 Festive inauguration of new artwork by Sammy Baloji
Friday 3 June 2022, 15:00, Cockerillkaai, 2000 Antwerp
Visual artist Sammy Baloji was invited by Kunst in de Stad to make a new artwork for the city's public art collection. His monumental bronze sculpture, 'The Long Hand', will be permanently placed on the Cockerillkaai, near the Zuidersluis. The artwork will not only become a significant element of the riverbank's identity, but also serve as a place of social gathering.
'The Long Hand' holds many references that originated in Baloji's interpretation of the river Scheldt as the way from "here" to "there", as a connection between the city and the world, but also between Belgium and Congo, the artist's homeland. The sculpture is a contemporary interpretation of a lukasa ('long hand'), an artefact in Luba culture used as a mnemonic device supporting the oral tradition of historiography and knowledge transfers. This tradition was always a social one, where gathering and shared contemplation were essential. With 'The Long Hand', Antwerp will house a public artwork that invites everyone to come together, to dialogue, and to listen. It is also the first artwork by a Congolese artist to be placed permanently in the public space of the city.
More information about the artwork can be found here.
On Friday 3 June, 15:00, all are welcome for the festive inauguration of the sculpture by Alderman for Culture Nabilla Ait Daoud and artist Sammy Baloji, followed by a kasàlà – a traditional eulogy to mark a special event or person – written and performed for the occasion by Jean Kabuta.
Should you wish to receive more information about this artwork, or to interview the artist or curator Kunst in de Stad Samuel Saelemakers on June 3 or ahead of the inauguration, please contact [email protected].
Made possible with the support of the Department Culture, Youth and Media.
Header image: Grandhomme & Bennani, SB - Lukasa, sketch, 14-01-2021
Nadia De Vree Perscommunicatie Cultuur, Stad Antwerpen