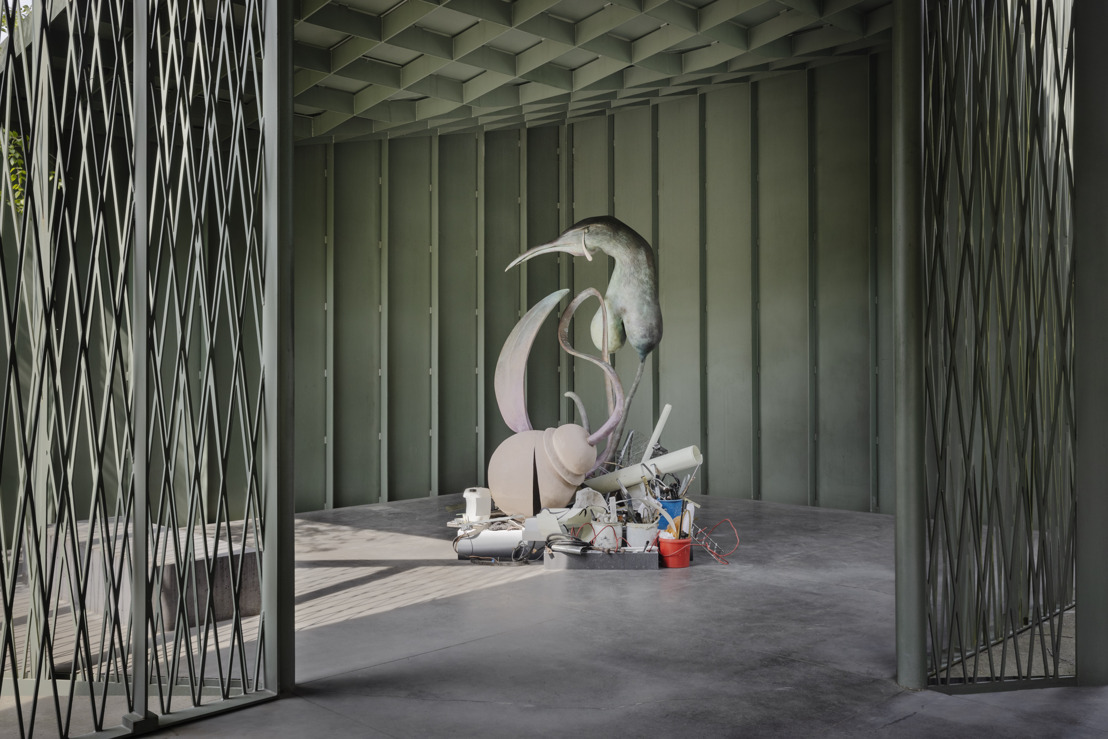 Middelheim Museum, Antwerp, 11 June – 16 October 2022
​
Middelheim Museum is pleased to present Wet Job, the first solo exhibition by artist Camille Henrot (°1978) in Belgium. The exhibition is the first of its kind to focus on the artist's practice in sculpture and brings together close to 40 works produced over the last decade in an expansive outdoor setting. In the context of this exhibition, Wet Job has multiple and evolving meanings: it refers to the labor of breastfeeding and breast pumping (think 'wet nurse') at the same time as it evokes the end of life ('wet work'), the fluidity of identity, and the sometimes messy nature of human relations. It is particularly striking to consider the artist's choice to use bronze, one of the most time-honored, durable materials, to capture the fleeting impermanence of human experience.
With more than one publicly accessible entrance, the grounds of Middelheim Museum offer multiple entry points and trajectories throughout Henrot's oeuvre, which include works from the series Overlapping Figures (2011), Desktop (2013-2014), Monday (2016), System of Attachment (2018-2021) and Wet Job (2021-2022). Presented in both indoor and outdoor spaces of Middelheim Museum, Henrot's works engage directly with their environment. She states, "I didn't want the sculptures to overpower the landscape, and thought instead that my work could occupy space in the way that natural bodies would – that they could exist alongside a rabbit, a cow, a mushroom, a stone." Working together with the museum team and city gardeners, Henrot ​ selected wildflowers that would be left to grow freely over the course of the five-month long exhibition. While the wild meadow obliquely recalls Henrot's past works involving flowers (see Is It Possible to Be a Revolutionary and Like Flowers? (2012) or Jewels from the Collection of Princess Salimah Aga Khan (2011-2012)), the present intervention underscores the porous nature (and the porosity to nature) of the exhibition as a whole.
"The Middelheim Museum's invitation to Camille Henrot to create a solo exhibition is in keeping with a long tradition of collaborations with international artists. It also makes sense for the artist to show her work in the art park. Henrot believes that art should be fertile. She literally plants her works in the art park and invites viewers to let meaning grow wild, just like the 8000m2 wild flower meadow that was sown especially for this project."
​– Nabilla Ait Daoud, Alderman for Culture of the City of Antwerp
At the heart of Henrot's sculptural practice is an impulse to attribute shapes to the liminal experiences of bodies and slippages beyond the self. Henrot's hybrid figures – neither human nor animal nor plant-like in form – exist in a state of perpetual becoming. Always suggesting the capacity to (d)evolve, they seem to ease into their own metaphysical contradiction.
At the south end entrance of Middelheim Museum, a cast of characters from Monday (2016) gather around a pond. Slightly larger than human scale, Derelitta, No Message and Undelivered Message are figures suspended in a state of simultaneous satiation and expectation. Though grouped together, they are isolated in perpetual conflict with the technological devices and routines they depend on.
Inside the Braem Pavillion, works from Wet Job are subject to a similar effect of technology – in this case, the breast pump machine's effect on the postpartum body. With Iron Deficiency (2021), End of Me (2021) and A Free Quote (2021), Henrot looks at the transactional mechanics of exchange – between mother and child as well as mother and machine – serving, suckling and secreting on schedule. Henrot considers the liquid value of breast milk in an underrecognized, undercompensated field of labor.
In Het Huis pavilion, Overlapping Figures (2011) and 3,2,1… (2021), produced ten years apart, involve similar processes of sculpture-making. Both feature the remnants of their own manufacture: hammers, bricks, wooden boards, pieces of plaster, boxes, brushes and detritus of other destroyed works. The bronze worm-like forms of Overlapping Figures seem to simultaneously escape and recoil, while the larger-than-life mother crow of 3,2,1… sheds a tear at the disordered nest it has built for itself. Henrot acknowledges that the process of creation automatically implies the generation of waste. The title of the work 3,2,1… points to the psychological state of regression that accompanies motherhood as well as to the emergency of the climate crisis. Though marked by individual shame and guilt, Henrot positions climate grief and postpartum depression rather as crises of collective and political responsibility – a concern that takes on added urgency in the green environment of Middelheim Museum.
System of Attachment (2018-2021), Henrot's largest series of sculptures to date, run wild throughout the exhibition, especially concentrated in the labyrinthine Hortiflora. Inspired by the way we attempt to understand the world before we have words – through touch and taste – the series is a prolongation of the artist's interests in the sensual basis of knowledge. In Every Goodbye (2019), a sequence of question marks uses a linguistic sign to explore pre-linguistic experience. With OCPD (2019), a large nebulous form appears almost weightless, held up by a fabric floating in the wind, reaching upward to hold it with two gentle pokes. In the smaller work Learning to Loose (2019), two breasts adopt the shape of an internal organ, propped up on a crutch in an uncertain balancing act.
Complemented by new works developed especially for Middelheim Museum – including Laundry (2022), You Are So Minute (2022), Unicorn (2022) and Gargoyles (2022) – Wet Job offers a rare opportunity to revisit a sweeping range of the artist's existing oeuvre in relationship to an ever-evolving, active practice. Camille Henrot's sculptures emphasize the delicate equilibrium between thing and object, and the mutual generation of bodies, words and shapes.
About Camille Henrot
Camille Henrot (b. 1978 in Paris, lives and works in Berlin and NYC) is recognized as one of the most influential voices in contemporary art today. Inspired by a playful research process, Henrot works in a multiplicity of media, including film, drawing, painting, sculpture and installation. Inspired by literature, second-hand marketplaces, cartoons, social media, self help and the banality of everyday life, Henrot's work captures the complexity of living as both private individuals and global citizens in an increasingly connected and over-stimulated world. In 2013, Henrot received widespread critical acclaim for Grosse Fatigue (2013), for which she was awarded the Silver Lion at the 55th Venice Biennale. In 2016, she was given the Carte Blanche at Palais de Tokyo in Paris, where she presented the major exhibition 'Days Are Dogs'. Henrot has had numerous exhibitions worldwide, including at the New Museum, New York; Fondazione Memmo, Rome; Tokyo Opera City Art Gallery, Japan and National Gallery of Victoria, Melbourne. Other upcoming solo exhibitions in 2022 include Kunstverein Salzburg, Austria, and the Munch Museum in Oslo.
The artist has made the exhibition together with curator Pieter Boons, and is grateful to the entire team of the Middelheim Museum for the collaboration on this project.
​
​The exhibition was realized with the generous support of Hauser & Wirth and kamel mennour.

​Text by Léa Trudel
​Edited by Jacob Bromberg

​High resolution photos of all works are available for download in the media gallery.

​For press information, please contact:
Nadia De Vree Perscommunicatie Cultuur, Stad Antwerpen
Rafaelle Lelievre Press and communications Middelheim Museum & Kunst in de Stad